Tea Shaker
Sale price Price $29.95 Regular price $0.00
INTRODUCING THE TEA SHAKER  - AN EASY WAY TO ENJOY MATCHA
A Bamboo whisk (Chasen) is traditionally used in Japanese Tea Ceremony to blend the tea powder with water.  However, the technique required to use the whisk is often challenging for the uninitiated to achieve that rich frothy finish which is most desirable in a cup of Matcha. 
The Tea Shaker was designed and developed in Japan by our tea supplier to offer an easy way to enjoy Matcha without need for a bamboo whisk.
It performs the same function as a Bamboo Whisk yet makes for an easy and fuss free way to make a lovely cup of Matcha . 
WHAT'S THE SECRET?
The many holes found under the lid help produce delicate soft bubbles of Matcha which lead to an incredibly smooth and foamy texture to your Matcha (or Houjicha).
WHAT IS IT MADE FROM?
This unique Tea Shaker device is made out of BPA-free Tritan. Products made from Tritan are impact and shatter resistant, Plus they stay durable even after years of repeated use.
It is completely free of bisphenol A (BPA), bisphenol S and any other bisphenol compounds as well as estrogenic and androgenic activity.⠀
Fits 330ml of liquid
It also comes with a removable steel sieve that sits atop the Tea Shaker cylinder so the tea can be pushed through to create an extra fine powder
A reusable lightweight device, perfect to pop in your bag and take to the office, gym, university or anywhere you may need a Matcha or Houjicha pick up. ⠀
You can make delicious frothy Matcha or Houjicha anywhere. ⠀
CHOOSE FROM:  Clear or Floral Design
HOW TO USE: 
 STEP BY STEP INSTRUCTIONS:
- Take 1 scoop of Matcha and place into the included tea strainer which sits on top of the Tea Shaker (with lid removed)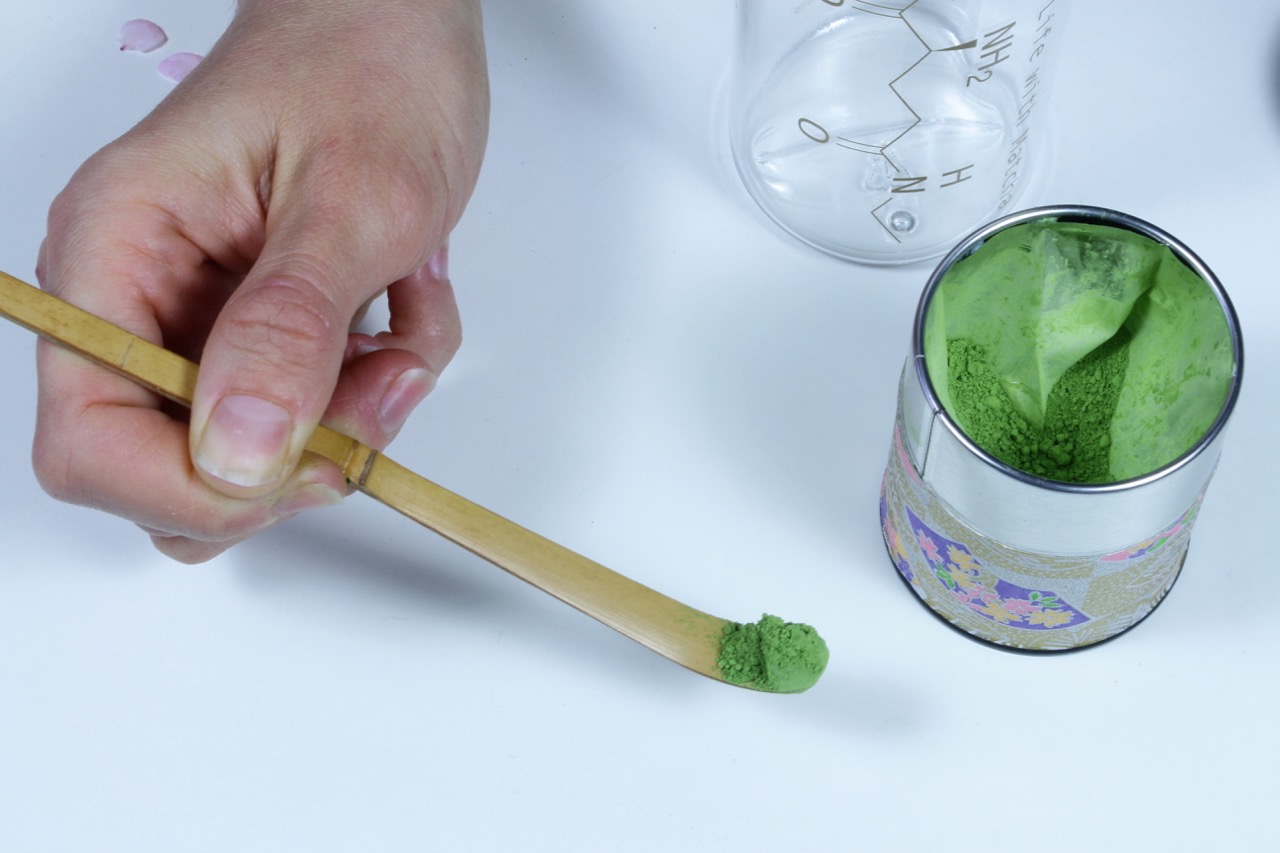 - Push the Matcha through the tea strainer into the shaker. This ensures the Matcha powder is nice and fine with no lumps. 
- Remove the tea strainer and fill shaker with around 120 ml (1/2 cup) of water or milk and close the cap tightly (optimum temperature is 80 degrees)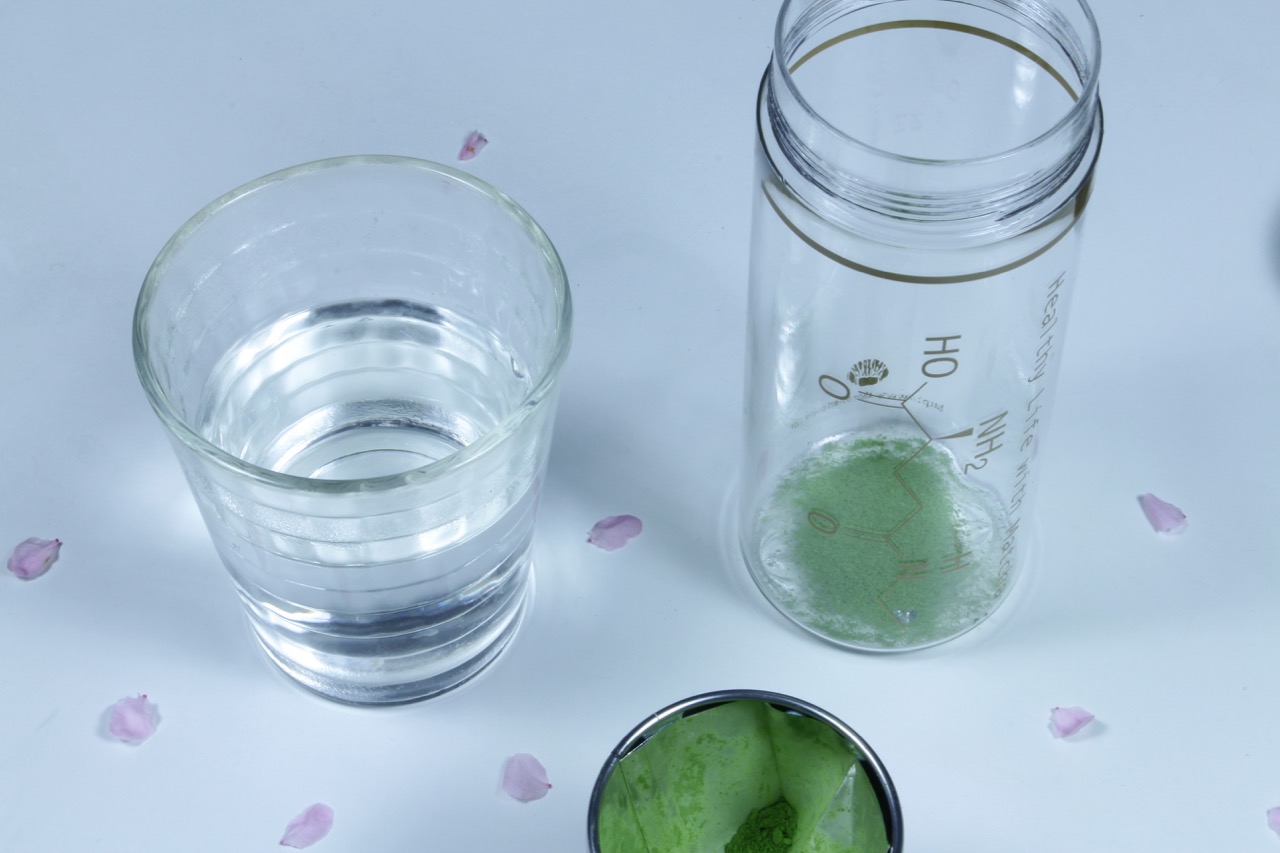 - Shake the bottle about 10-20 times from up to down. Make sure the cap, silicon ring and bottle are tightly shut.
Enjoy the Matcha directly from the bottle or pour the Matcha in to a cup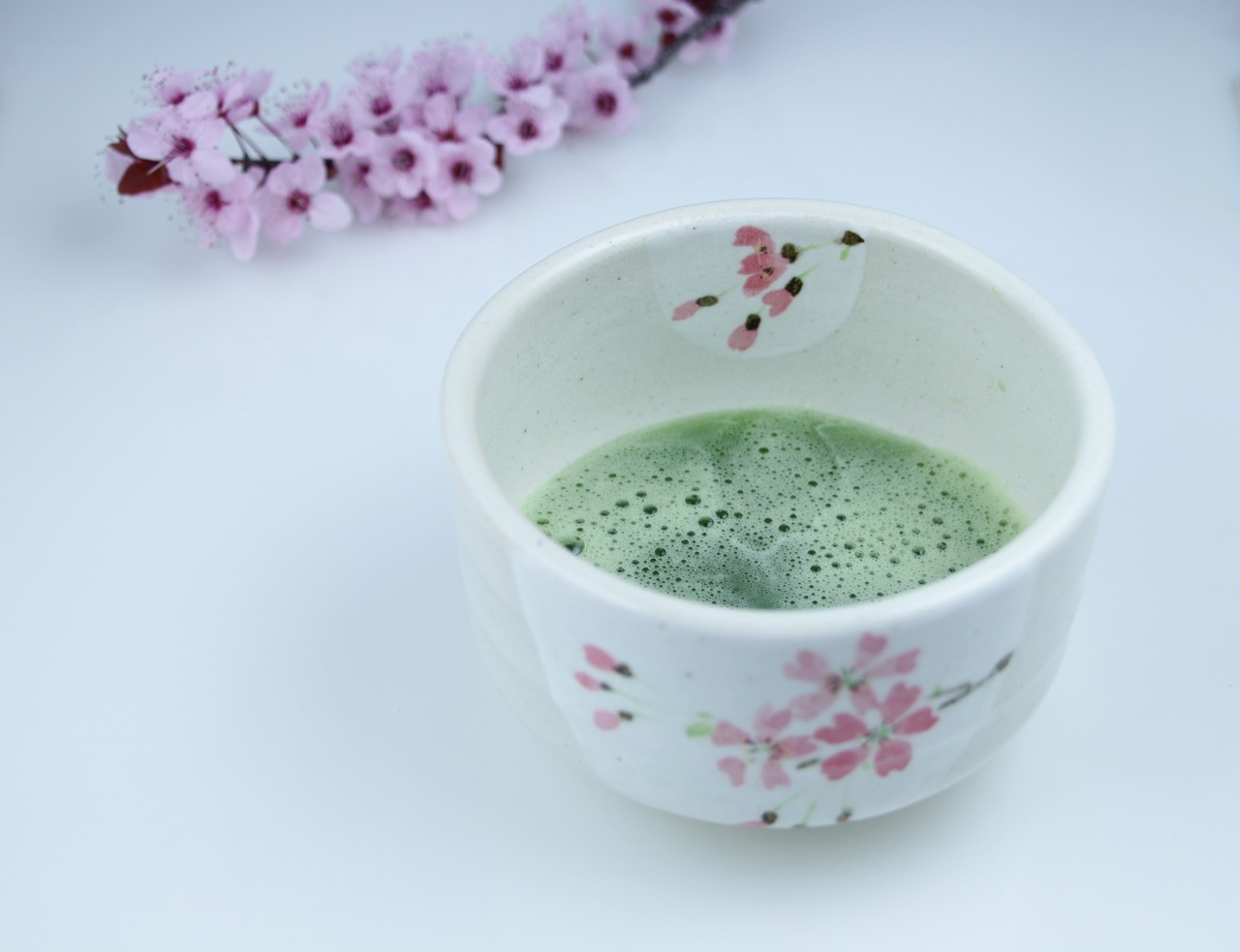 (Note: These steps can also be followed for making a cup of Houjicha) 
⠀
Our Certified Econic Home Compostable Packaging is perfect for storing matcha as it protects it from exposure to air, heat and light that make Matcha appear dull and bitter.
Econic® packaging is made from three compostable films derived from sustainably-produced wood pulp and GM-free corn sources.
The three films are laminated together to provide the barrier properties required to lock in the taste and freshness of coffee and dry foods. - You can put your used Econic® bags in your own home compost or worm farm, containing heat, water, oxygen, soil and micro-organisms.
They can also be disposed of in a commercial composting facility if you have one in your area.
Compost trials have shown that Econic® bags can break down into small fragments in as little as 16 weeks.
Our product labels are also home compostable, produced by Black Rainbow Printing.
COVID 19 UPDATE
We are still shipping parcels within 2 business days of receiving your order in a careful and hygienic manner.
We appreciate your understanding with any delays that may occur once the parcel leaves our premises and is with our carriers.
Please see the latest updates from these carriers regarding Covid-19 delays.
SENDLE COVID 19 UPDATE
As an 'essential service,' Sendle is fully operational - picking up and delivering parcels to all states and territories in Australia.
'Signature on Delivery' has been changed to 'Authority to Leave' to eliminate person to person contact. Our delivery drivers will leave a parcel at their discretion in a designated safe place. (They can also take a signature on behalf of customers while standing two metres away).
Due to the cancellation of many international flights and country-specific restrictions, overseas transit times may be delayed See our full list of temporarily suspended destinations

To our international customers -

we are seeing delays between Australia and the rest of the world due to lack of flights and we are still delivering but it could take up to 4 weeks or longer for your parcel to arrive. We appreciate your patience at this time.

To our US customers - we are seeing delays of up to 5 weeks or longer on delivery service at this time.
AUSTRALIA POST COVID-19 UPDATE
We are doing everything possible to keep delivering during the Coronavirus pandemic. Most of our Post Offices are still open, while our posties and drivers are working to get your parcels to you.
However, the challenges presented by the pandemic mean there are delays as our business adopts additional safety measures to protect our people and customers. Other factors contributing to delays include fewer domestic flights, international delays and increased volumes as more people start shopping online.
These delays can be up to a few days, and we ask that you bear with us during this challenging time. Thank you for your support and patience.
Domestic Shipping
We use Australia Post or Sendle to send out our orders across Australia
If your order is under 200 grams you will have the option to select the Australia Post option at checkout and the postage cost will be AUD $4.00. However, there is no tracking for this service and we assume no responsibility if item is lost in transit.
If you select the Sendle courier option (rates start at AUD $9.00) you will be supplied with a tracking number to trace item.
If your product is in stock, we will post to you by the next business day. Dependant on your location, you can expect to receive your order within 5 business days.
Domestic shipping is a flat rate based on weight and is calculated at checkout

If the postal address provided is a PO Box or Locker, please note that Sendle cannot deliver to these type of addresses. In this instance, Australia Post will be used with tracking.
International Shipping
We use Sendle to send out our orders across the World (or Australia Post if delivering to PO Box addresses). If your product is in stock, we will post to you within 2 business days. Shipping times vary according to the country you reside in however you will receive a tracking number by email to keep up to date with when to expect your order.
International shipping is based on delivery location and order weight and is calculated at checkout.
Packaging
As a business, we feel have a responsibility to Planet Earth by supplying our products in the most eco-friendly option available. That is why you will find unnecessary plastic packaging in your order.
Tea Shakers are packaged in cardboard and our Tea comes in home compostable packaging.
We use brown jiffy bag mailers or cardboard boxes that provide cushioning protection with 100% recycled paper fibre interior to post our products to you. These can be reused by yourself or recycled in your kerbside bin.
Rest assured, you will not receive any excessive plastic packaging, yet your order will be safely and securely packed.
Returns
Our desire is that you will be completely happy with your purchase but if for some reason you are not satisfied with the product, please contact us at hello@matchayutea.com to let us know how we can help.
Our policy lasts 30 days. If 30 days have gone by since your purchase, unfortunately we can't offer you a refund or exchange.


Easy & Enjoyable
The tea shaker has made my morning ritual of matcha lattes so easy, enjoyable and fun. It is such a treat to whip up frothy lattes in only a few seconds of shaking. Easy to clean, keep and store without needing a large frothing machine. It will upgrade your experience if you don't already have one!
So easy
I used to whisk my matcha, but it was always a hassle, and the whisk didn't actually last long. The tea shaker is so much easier! And I was able to take it with me on holidays, which I couldn't do with the whisk and bowl. It also lasts longer, I've been using it for about a year now, and despite a few drops and whatsnot, it's still perfect.
Handy Tea Shaker
A good investment for those who are constantly on the go but need their Matcha hit! Very easy to use and clean.
Matcha Tea Shaker
Found the tea shaker very easy to use, especially for people with weak wrists who can't do the W whisk with the bamboo whisker.